Dewey G. Woody (1898 - 1979)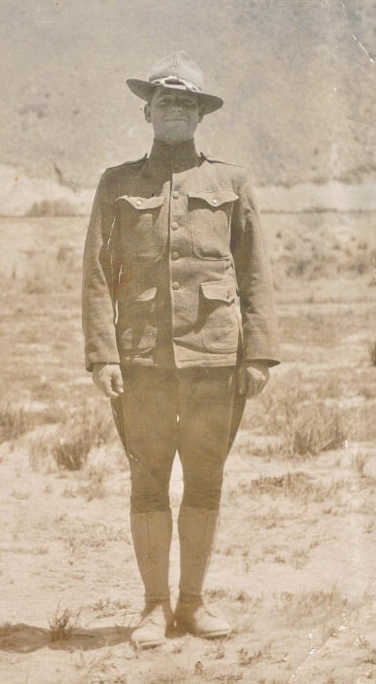 Dewey G. Woody (1898-1979)
Reprinted from the Messenger-Index, December 13, 1979
Dewey Woody, Barracks Commander, Dies Thursday
Services for Dewey G. Woody, 81, Emmett, who died Thursday in an Emmett nursing home, were conducted Monday in Potter Funeral Chapel by the Revs. Don West and Harry Granger. Interment with military rites by the Cherry Valley Barracks, Veterans of World War I and lodge rites by the Emmettville Lodge No. 11, IOOF, were at the Emmett cemetery.
He was born May 17, 1898, in Emmett to William and Catherine Woody. He was reared and educated in Emmett and McMinnville, Ore. He served in the U.S. Army in France during World War I. He married Eunice Pederson in 1923. She died in 1961. He farmed near Hagerman and worked at lumber mills in Emmett and Wallowa, Ore., and retired from the Horseshoe Bend mill in 1968. He married Hester MacAskill on February 8, 1964.
He was present commander of the Cherry Valley Barracks Veterans of World War I, a past noble grand of the Emmettville Lodge No. 11, IOOF, a member of the Patriarch No. 34 and the Baptist Church.
Surviving are his wife of Emmett; two daughters, Kathy Stuwe of Salem, Ore, and Carol Howell of Emmett; two stepsons, Kenneth MacAskill of Livingston, Mont. and Wayne MacAskill of Bend, Ore.; a stepdaughter, Caroline McConnel of Emmett; a brother Wesley Woody of Emmett; a sister, Amy Moore of Yucaipa, Calif.; 10 grandchildren, three great grandchildren; nine step grandchildren and four step-great grandchildren. He was proceeded in death by a son, four brothers, two sisters and a grandson.
© 2009 - (present) Sharon McConnel. All Rights Reserved.
The IDGenWeb Project is a genealogical and resource collection for the state of Idaho and its counties. The state and counties has many volunteers who are dedicated to promoting free genealogical and research resources from the state's rich ancestral history.
---