Marvin Gross (1902 - 1982)
Word has been received here of the death of Marvin E. Gross, age 73, of El Paso, Texas, January 30, 1982. Services were held in El Paso. He was born at Gross, Idaho, in northern Gem County, where he was reared and educated.
He worked for Morrison-Knudsen Co. on Wake Island where he was captured and held prisoner of the Japanese for four years during World War II. On his return to the States he went to El Paso and worked in the home building business. He married Carmen Guitiez in August 1946.
In addition to his wife, he is survived by two daughters, Patsy and Dolores Ann, all of El Paso; a stepdaughter, Roberta Burkn, of LaBort, Texas; two grandchildren; three brothers, Gustave of Pueblo, Colo., Frank of New Plymouth, and Orvid of Caldwell; two sisters, Janie Kimball and Hester Woody, both of Emmett.
He was preceded in death by his parents, one brother and one sister.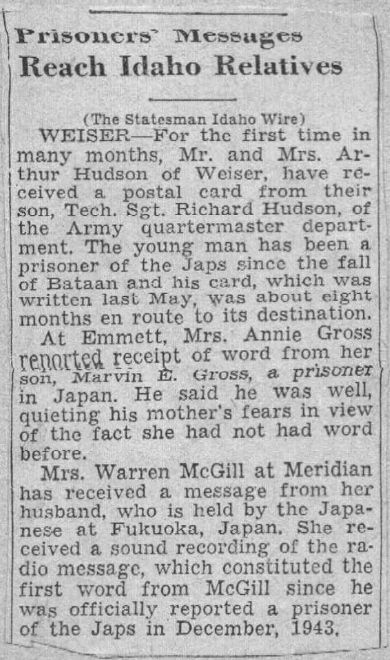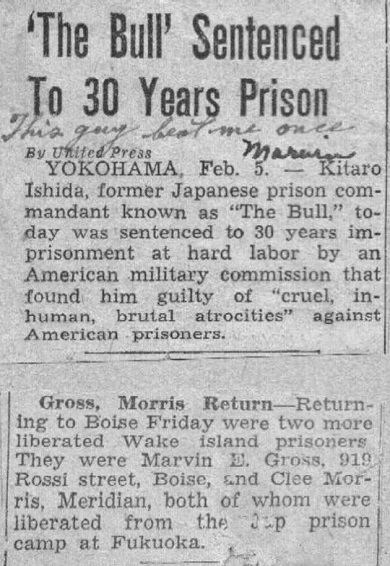 Copyright © 2009 - Sharon McConnel. All Rights Reserved.
The IDGenWeb Project is a genealogical and resource collection for the state of Idaho and its counties. The state and counties has many volunteers who are dedicated to promoting free genealogical and research resources from the state's rich ancestral history.
---