School Districts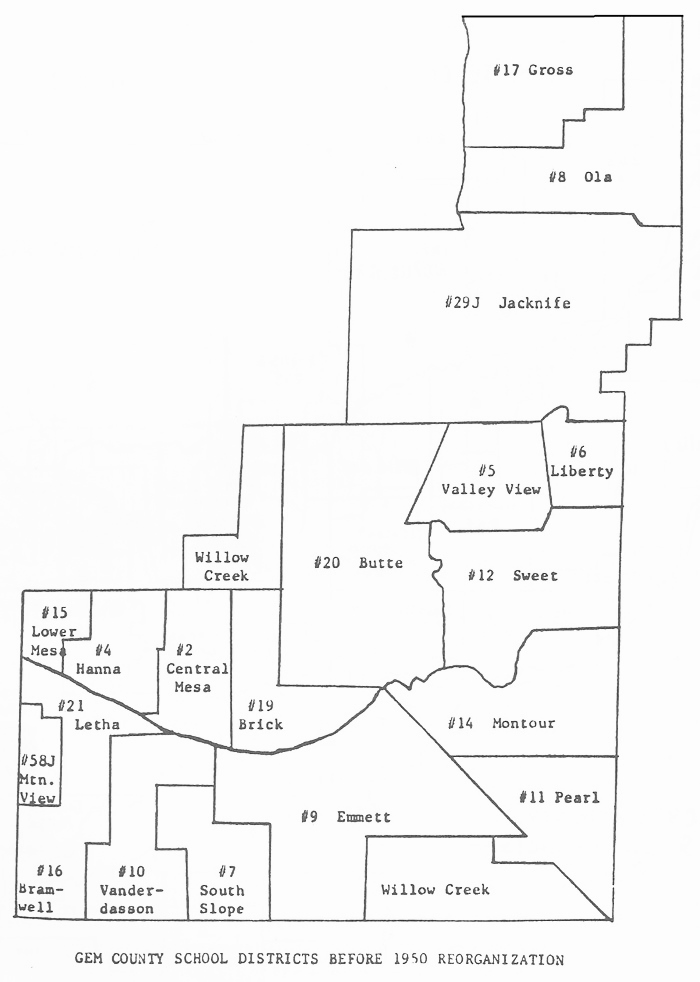 click for larger version
Extracted from "Old Country Schools of Canyon County, includes Gem and Payette County" by Corinne Moyers. Privately published, 1988.
School locations from the 1939 "Metsker Atlas of Gem County," districts 1-29 as follows:
Central Mesa, Sec. 33, T7N, R2W
Hanna, Sec. 30, T7N, R2W
Valley View, Sec. 28, T8N, R1E
Liberty, Sec. 11, T8N, R1E
South Slope, Sec. 27, T6N, R2W
Ola, Sec. 25, T10N, R1E
Emmett, Sec. 18, T6N, R1W
Vanderdasson, Sec. 9, T6N, R2W
Pearl, Sec. 15, T6N, R1E
Sweet, Sec. 3, T7N, R1E
Montour, Sec. 27, T7N, R1E
Lower Mesa, Sec. 15, T7N, R3W
Bramwell, Sec. Sec. 12, T6N, R3w
Gross, Sec. 13, T11N, R1E
Brick, Sec. 31, T7N, R1W
Butte, Sec. 10, T7N, R1W
Letha, Sec. 35, T7N, 3W
Jackknife, Sec. 2, T9N, R1E
Copyright © 2009 - Sharon McConnel. All Rights Reserved.
The IDGenWeb Project is a genealogical and resource collection for the state of Idaho and its counties. The state and counties has many volunteers who are dedicated to promoting free genealogical and research resources from the state's rich ancestral history.
---