The National Register of Historic Places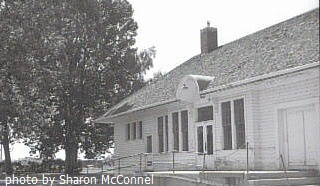 Oregon Shortline Depot, Emmett
Emmett
Bliss, F. T., House
82000345
E. 2nd and McKinley Sts., Emmett
821117
Tourtellotte and Hummel
Architecture TR
Catholic Church of the Sacred Heart
80001323
1st St., Emmett
801203
Early Churches of Emmett TR
Emmett Presbyterian Church
80001324
2nd St., Emmett
801203
Early Churches of Emmett TR
First Baptist Church of Emmett
80001325
1st St., Emmett
801203
Early Churches of Emmett TR
Gem County Courthouse
82000347
Main St. and McKinley Ave., Emmett
821117
Tourtellotte and Hummel
Architecture TR
Methodist Episcopal Church
80001326
1st St. and Washington Ave., Emmett
801203
Early Churches of Emmett TR
Oregon Short Line Railway Depot
95000506
119 N. Commercial Ave., Emmett
950427
St. Mary's Episcopal Church
80001327
1st St., Emmett
801203
Early Churches of Emmett TR
OLA
Ola School
92000415
5 Ola School Rd., Ola
920505
Public School Buildings in Idaho
MPS
SWEET
Sweet Methodist Episcopal Church
97000766
7200 Sweet-Ola Hwy., Sweet
970709
sources:
Idaho State Historical Society, National Register
|
National Register
Century Farm & Ranch Program
Idaho State Historical Society
"This program is designed to honor those farm and ranch families who persevered through physical hardships, natural disasters, and economic hard times to settle this great state.
The program recognizes a farm or ranch owned and operated in Idaho by the same family for at least 100 years, with 40 acres of the original parcel of land maintained as part of the present holding.
The program also honors a family farming or ranching continuously for 100 years in Idaho, but not necessarily on the same land."
Four farms in Gem County have been recognized as Century Farms.
Highland Livestock and Land Company (1888) Current Owner: Estate Jessie Little Naylor First Generation Owner: Robert and Mary Aikmen Location: Willow Creek
Robert W. and Julie Upson Farm (1885) Current Owner: Robert W. and Julie Upson First Generation Owner: Katie and Christian Kjersgaard Location: Emmett
Harold B. Williams and Howard D. Williams Farm (1890) Current Owner: Harold B. Williams and Howard D. Williams First Generation Owner: Horace and Letitia S. Baker Location: Emmett
Howard R. Wilson Farm (1889) Current Owner: Howard R. Wilson First Generation Owner: William and Lena Wilson Emmett, Idaho
Note: The information included in the above list was taken directly from the applications as originally submitted. The Century Farm/Ranch program began during the Centennial Year of 1990; therefore, the information may not be the most current.
Century Farm & Ranch Program
Copyright © 2009 - Sharon McConnel. All Rights Reserved.
The IDGenWeb Project is a genealogical and resource collection for the state of Idaho and its counties. The state and counties has many volunteers who are dedicated to promoting free genealogical and research resources from the state's rich ancestral history.
---