"Pacific Coast Business Directory for 1876-78," Compiled By Henry G. Langley, Editor of the California State Register, Pacific Coast Almanac, San Francisco, 1875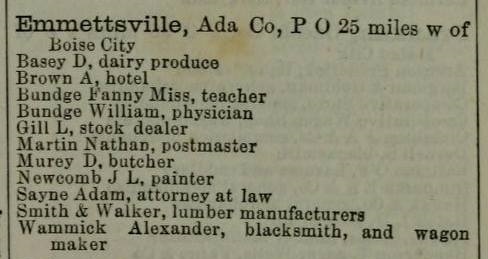 Listed are: D. Basey, dairy produce; A. Brown, hotel; Miss Fanny Bundge, teacher, William Bundge, physician; L. Gill, stock dealer; Nathan Martin, postmaster; D. Murey, butcher; J. L. Newcomb, painter; Adam Sayne, attorney at law; Smith & Walker, lumber manufacturers; Alexander Wammick (Womack), blacksmith, and wagon maker.
Down river at Falks' Store (now Payette County) -

Listed are: E. M. Baker, hotel; D. Falk & Bro., general merchandise; J. E. Fonts, teacher; James W. Patton, postmaster; W. Stuart, hotel; Asa Wommack, blacksmith.
See archive.org for more from Langley's Directory
Copyright © 2009 - Sharon McConnel. All Rights Reserved.
The IDGenWeb Project is a genealogical and resource collection for the state of Idaho and its counties. The state and counties has many volunteers who are dedicated to promoting free genealogical and research resources from the state's rich ancestral history.
---