Sweet Methodist Church
by Kennie Lynn Klingback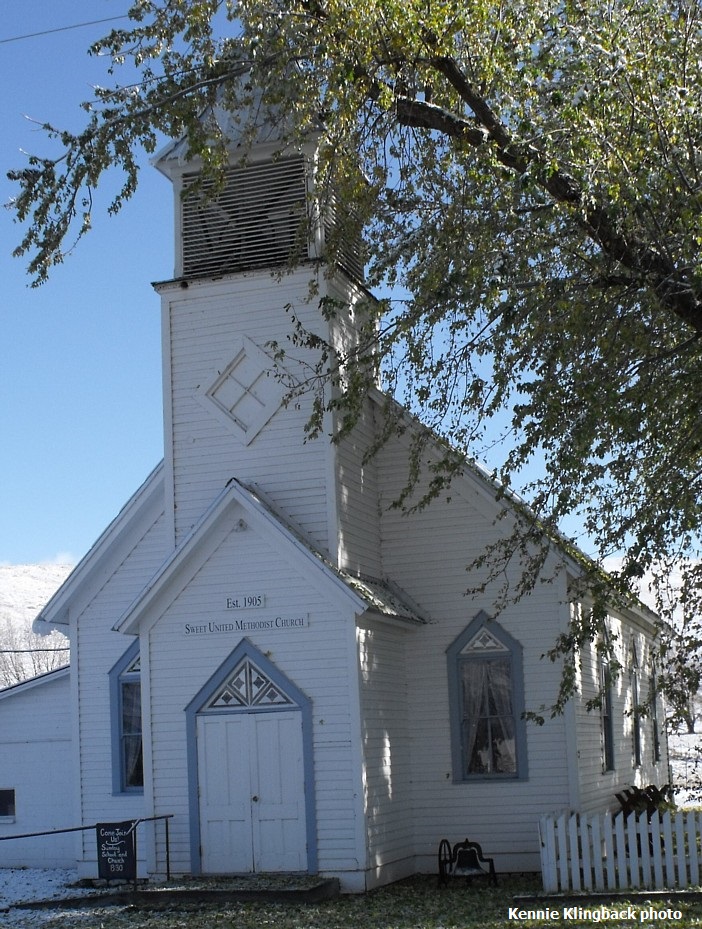 "The Sweet Methodist Church congregation first built a parsonage on land donated by the Ed Miller family in 1902. This parsonage, next door the church, was the home for a circuit of Methodist Churches in Sweet, Montour, Brownlee, and Jerusalem. After meeting in members homes the trustees voted to build a new church building. Contributions from the community and surrounding towns, in money, material, and labor resulted in the church's dedication in 1905. The first pastor was Rev. J. M. Hixon. He was not only pastor but an accomplished carpenter. He built the pulpit still in use on the altar. Through the years the church has maintained itself as a Methodist Church. It has been the site of church services, Sunday School, vacation Bible schools, community programs, dinners, ice cream socials, weddings, Baptisms, Christenings, and funerals.
"The building is on the National Register of Historic Places as a representation of the typical church built in small Western communities at the turn of the last century. While there is a bell in the tower, which was last rung at a memorial service following September 11, we now ring the bell that is mounted by the front door. This bell was donated by the Alva McConnel family and came from the church in Montour. The interior is quite beautiful with a wine colored carpet and the original bead board wainscoting. A very large oil painting of Jesus in the Garden hangs over the altar. The church has several pieces of furniture that are original or very close to original, a book case, a library table, a cabinet, and some big oak chairs. The fine piano is a recent donation from a wonderful friend of the church.
"This church congregation has been a supporting, welcoming Christian presence in this valley for over a 100 years, and we will, with God's help and your prayers, be here another 100. Sunday services are held every Sunday at 9:15, everyone is welcome to join us." --- Kennie Klingback
The photograph and article on this page are protected by copyright with rights reserved by Kennie Lyn Klingback.
Page design copyright by gem.genweb.org coordinator, Sharon McConnel, Gem County Coordinator.
---