Historical Markers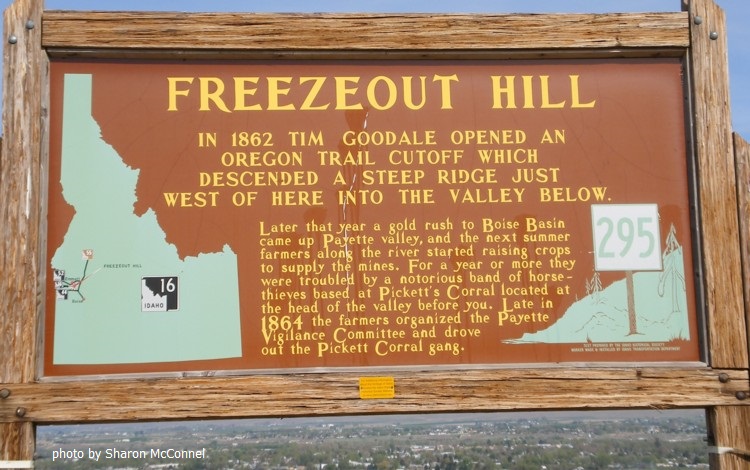 Freezeout Hill
"In 1862 Tim Goodale opened an Oregon Trail Cutoff which descended a steep ridge just west of here into the valley below.
"Later that year a gold rush into Boise Basin came up the Payette valley and the next summer farmers along the river started raising crops to supply the miners. For a year or more they were troubled by a notorious band of horsethieves based at Pickett's Corral, located at the head of the valley before you. Late in 1864 the farmers organized he Payette Vigilance Committee and drove out the Picket Corral gang."
Note: They went up Haw Creek, then west of Squaw Butte, up 10-Mile Grade (Payette Co.), then down into Hells Canyon. Where the route crosses public lands, it has been marked by the Oregon Trail Association.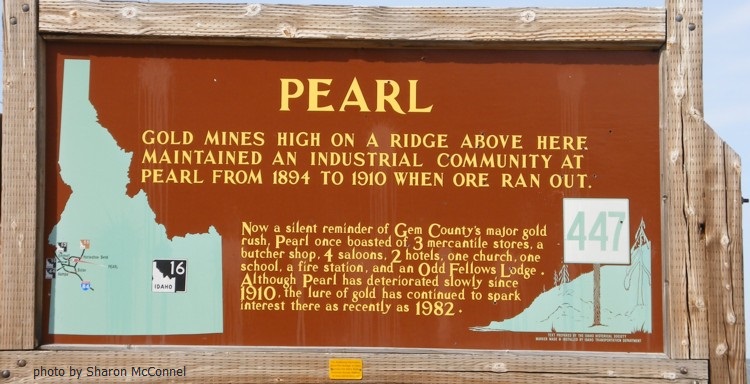 Pearl
"Gold mines high on a ridge above here maintained an industrial community at Pearl from 1894 to 1910 when ore ran out.
"Now a silent reminder of Gem County's major gold rush, Pearl once boasted of 3 mercantile stores, a butcher shop, 4 saloons, 2 hotels, one church, one school, a fire station and an Odd Fellows Lodge. Although Pearl has deteriorated slowly since 1910, the lure of gold has continued to spark interest there as recently as 1982."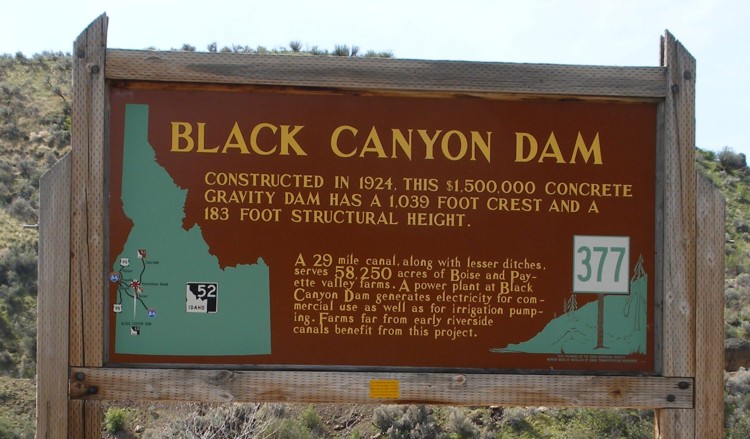 Black Canyon Dam
"Constructed in 1924, this $1,500,000 concrete gravity dam has a 1,039 foot crest and a 183 foot structural height.
"A 29 mile canal, along with lesser ditches, servies 58,250 acres of Boise and Payette valley farms. A power plant at Black Canyon Dam generates electricity for commercial use as well as for irrigation pumping. Farms far from early riverside canals benefit from this project."
The above marker is in Wild Rose Park, at the base of the dam.
Historic Markers throughout the state
Copyright © 2009 - Sharon McConnel. All Rights Reserved.
---